Like this article? Spread the word
Why Backups are Essential for WooCommerce Stores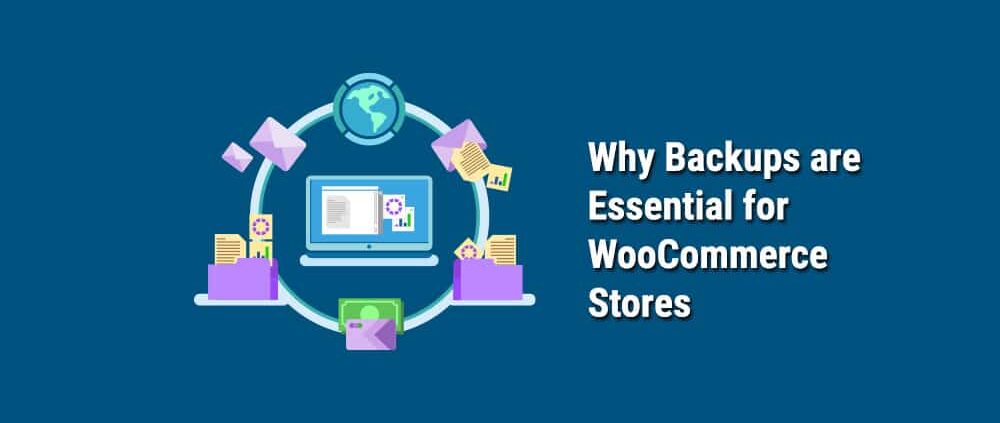 Why are Backups Essential for WooCommerce Stores? There is always risk when you conduct business over the internet. It is essential to take the proper steps to ensure that you do not lose revenue, hours of work, and lots of headaches. A broken site can cost you business and money in development costs if you do not take proper care of your store.
With the proper backup precautions, you can eliminate some of these issues. Learning about why backing up your Woocommerce store is essential, how to do it, and the best plugins to use will help your business thrive and grow.
List of Plugins that we recommend
Why are WooCommerce Backups Important?
When your store is offline, you cannot make any sales. People who may have given you their business will go somewhere else. This can also hurt your reputation and make your business seem unreliable.
A backup will take all the information on your websites like words, images, posts, transactions, and current changes, and store it in a separate location to be accessed if something happens to your website. There are many reasons this is important, but here are a few to consider.

Problems With an Update: To keep your website functioning properly, the plugins you use will need to be periodically updated. One problem is that these updates can go wrong and cause parts of your website to stop functioning. If your website information is stored, then you can restore it quickly.
Editing Errors: We all make changes to our website occasionally to make it more functional or incorporate a new element. It can be easy during these edits to cause a problem in the code. Finding and fixing these issues can be very hard unless you are a coding expert. You can always revert to the original and try again with a backup.
Malware: Some people think that only big companies are at risk of a cyberattack, but this is not true. Even smaller stores risk being infected with malware or malicious code. If this happens to your website, you can quickly go back to a clean and functional version after an attack.
How to Backup Your WooCommerce Store
Even if you are familiar with creating a backup for a typical website, you will still need to learn a few things about doing it for a WooCommerce store. A WooCommerce backup requires a little more information. It adds a custom table to the website database to house all the information regarding tax rates, shipping details, transactions, and orders.
Most traditional backup options do not incorporate this extra table of information, so they may not completely back up all your data. That is why finding a specialized backup system for WooCommerce stores is important.
Using a specialized backup for a WooCommerce store is also important because there is so much activity on your website. If you are only backing up every hour, you could still lose a lot of information in the event of a crash. WooCommerce backups use real-time backup solutions to keep this loss of data from happening.
There are a few different options for backing up your WooCommerce store. Each has benefits and drawbacks, so make sure you understand the options to choose your website's best one.
Manual: The process for a manual backup is pretty easy but also comes with some risks. If you make a small error, you could lose a lot of data. It can also be time-consuming, depending on how much information you have. Using this as your primary backup method is also not feasible because it doesn't happen in real-time.
Web Host: You can also back up through your Web Host. This is usually a part of a paid plan or feature, but the backups only happen once daily. They are a great option to use in tandem with other backup options, but it would be unwise to use this as the only backup plan for your website.
Plugins: The easiest way to have real-time backups for your website is to use a plugin. You can use several that will simplify the process and make it easy to ensure your website and information safety.
Best Plugins for WooCommerce Backups
UpdraftPlus: This plugin allows you to choose where you store your files: with your FTP, on an online drive, on the Cloud, or on your servers. It will also show the web-server disk space and allows for restoration within five seconds.
BlogVault: This plugin is excellent for beginners, and it is easy to manage all the migration options and offers real-time backups. It also comes with free cloud storage.
WP Time Capsule: This plugin is similar to BlogVault, but you can control it from the WordPress dashboard. You also have to provide your storage options. It has on-demand backups and real-time backups when a new order occurs. The interface is very user-friendly and easy to use.
BackWPup: This is a popular plugin for many reasons. You can create automated backups for your business. You can have your backups take many forms, including a .zip file. There are many storage options, and you can back them up with a straightforward click. There is limited backup scheduling.
Duplicator: This plugin focuses on creating a backup solution and helping the user with migration. You can migrate information without any lapse in website availability, and it has instant backup file creation and is a lightweight plugin.
Bright Vessel
Bright Vessel has a team of trained professionals ready to help you manage your website and WooCommerce store. You can reach us via our website to learn more about how the proper backups and marketing strategies give your business the edge it needs to succeed.
We are Bright Plugins
Bright Plugins team is made up of full-stack developers who have been certified in WordPress and WooCommerce. We provide best-in-class plugins for store owners, agencies, and professionals.
Pre-Orders

for

Woocommerce
4 Models
Get Presales
in a Comprehensive way
In today's fast-paced digital era, the internet connects people from all corners of the globe. With the world becoming more interconnected, businesses must recognize the importance of catering to diverse…