Order Delivery Date & Pickup for WooCommerce Pro
As a retail store owner, you're aware that providing more shipping options can boost sales. However, managing orders with various delivery complexities, such as different product types, pickup locations, time zones, and preparation times, can be challenging and stressful. If you're seeking a simplified solution to ease your burden, order delivery date for WooCommerce can be a helpful tool to simplify deliveries and pickups.
Not all products are the same. Sometimes, you need extra preparation time before you can ship it out.
Balance the shipping costs and profit margin by implementing strategies such as shipping charges and pickup services.
Balance the shipping costs and profit margin by implementing strategies such as shipping charges and pickup services.
Schedule Local Deliveries and pickups in WooCommerce
Managing the entire delivery chain and customer communication can overwhelm store owners. The Order Delivery Date Pro for WooCommerce helps you:
A Radical Delivery Scheduling Plugin for Retail Stores
WooCommerce delivery date and local pickup date features provide speedy service and quick order fulfillment.
Schedule and manage deliveries according to the product category
Select the categories you wish to add
Customize Date, Time, and Holiday Settings to suit your delivery requirements
Tailor your delivery schedules to cater to specific shipping methods:
Choose one or multiple shipping methods
Determine delivery date and time settings for each method
Optionally add additional charges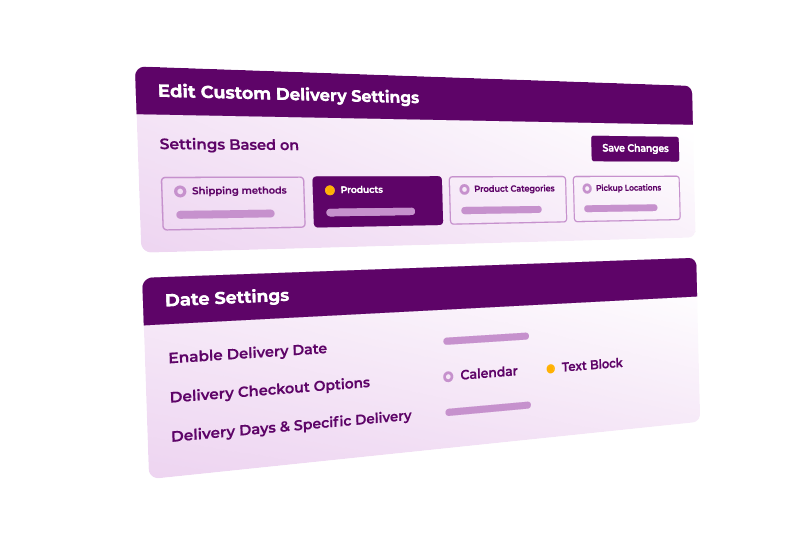 If you offer pickup services (BOPIS), this option is for you:
Select the product category and preferred pickup location
Set a limit for delivery slots based on maximum orders per location and product category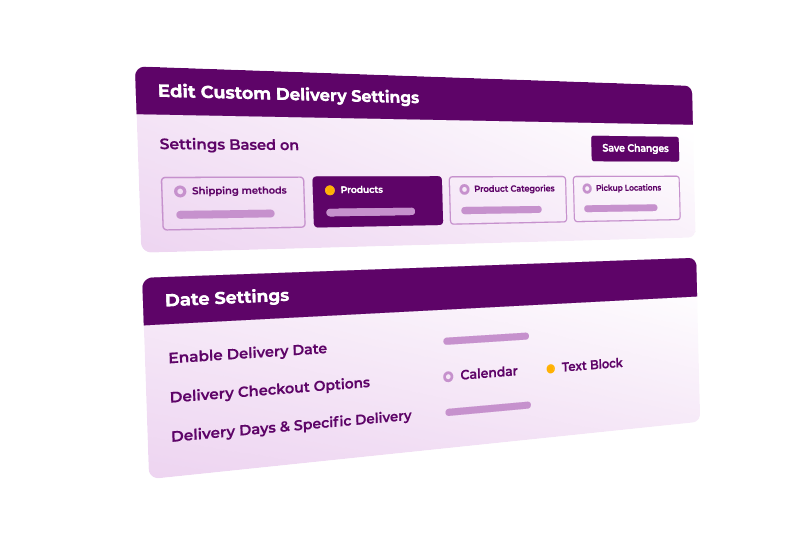 Same Day & Next Day Delivery
Boost your revenues with easy-to-manage same day and next day deliveries:
Set delivery charges
Establish cut-off times for both delivery options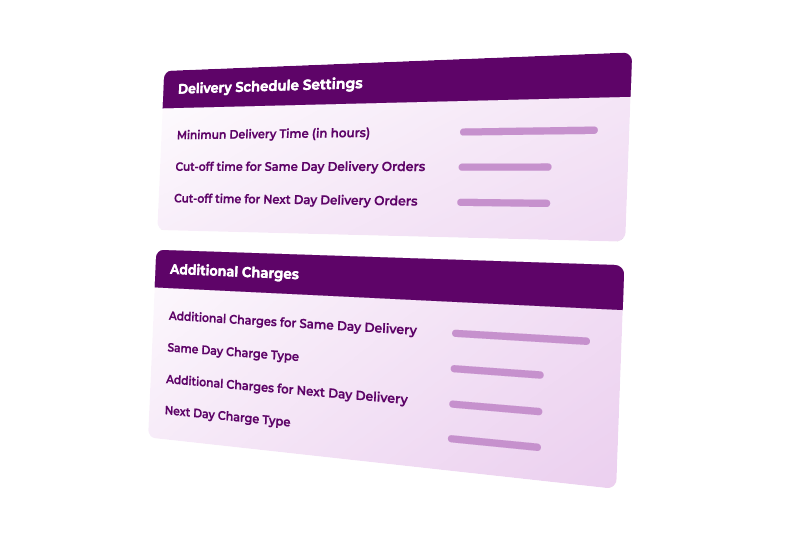 Cross-Functional Delivery Schedule Combos
Create efficient delivery schedules by combining parameters such as:
Store owners need preparation time before the product reaches the customers:
Set the minimum delivery time
Apply this to the delivery days you desire
Manage recurring orders with our WooCommerce Subscriptions add-on:
Enable the WooCommerce subscription add-on
Manage delivery date and time according to the subscription period
Compatibility with WooCommerce Checkout Block
If you use the block editor for your WooCommerce checkout page, add Order Delivery Date Pro fields with ease:
Find it under the "Shipping Address" block
Pickup location, Delivery date, and Time slot fields will appear accordingly
The Order Delivery Date Pro is packed with a plethora of useful features:
Send reminders before deliveries

Assign priority to delivery schedules

Add charges for the 'As Soon As Possible' time slot

Collect post-delivery customer reviews
Auto-populate the first available delivery date

Compatibility with multiple vendor plugins such as WC Vendors & Dokan
Select Your Plan & Get Started
We are dedicated to providing excellent support and would love to hear from you.