Like this article? Spread the word
MedCline Review – How They Destroyed Their Brand by Not Using Preorders
At Bright Vessel, we like nothing more than finding a brand that's doing things right. Fair competition makes us all thrive in business, as it makes us all get creative to find our place in the market. Unfortunately, that's not always the case, and sometimes, it's mistakes we have to learn from – like what recently happened to MedCline. In this MedCline review of their brand and activity over the holidays. We found they made some major mistakes not using Pre-orders and made many false promises. After carefully building a strong product and branding to match it, the company failed to produce a service as good as its promise. As orders started pouring in, MedCline's small team was overwhelmed and couldn't perform under the immense pressure.
Background
MedCline, from Amenity Health, is a brand specializing in positional therapy devices for people suffering from symptoms of GERD and chronic shoulder pain. The company has had enough success for some physicians to recommend their specialized pillows to patients with GERD.
Many people have seen an improvement in their symptoms thanks to their products. They also offer a 100-night guarantee for customers to try their products at home, aided by their MedCline Sleep Specialists. They claim that if their product and custom attention doesn't bring comfort and relief to users, they will accept a product return.
While putting out their pillows, MedCline also invested in targeted ads in numerous online platforms, successfully reaching out to people who suffered from the conditions treated by their products. The response was great for a while, with satisfied customers leaving glowing reviews on the brand's Facebook page.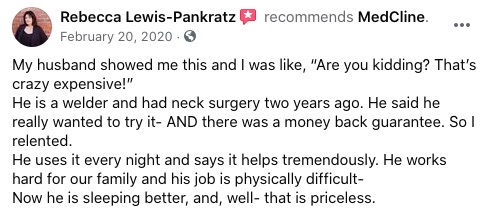 With this type of success and positive campaigning, MedCline is headed towards receiving many orders, particularly during the holiday season. People bought their pillows as presents or to start the New Year right.
Unfortunately, as it happens with most things, their products weren't the best fit for everyone who ordered them. Some customers attempted to get a refund, and that's when the problems began, as they spent weeks or even months trying to reach out to the company.
The Issue
MedCline was, unfortunately, unable to handle the sheer amount of orders they received. The company was understaffed with a limited number of available people to engage in customer service. Channels were left unattended as orders and requests came pouring in. This resulted in a series of mishaps, including:
Lost orders and shipping delays

Errors in orders
Unattended complaints

Poor communication with customers
Their Facebook and their Better Business Bureau pages are full of complaints of all types but mainly focused on customer services. Many customers say that, after expressing dissatisfaction with the product, their complaints went unheard. They tried to reach out to customer service for weeks to little response, using different channels, including social media.
Now, their Facebook reviews page is flooded with customers complaining about the lousy service, destroying their carefully constructed branding and reputation.
How MedCline Could Have Avoided This
It would seem like MedCline had an issue of planning and generally biting on more than they could chew. In this case, some of the best ways to approach a growing business depending on orders would have been:
Creating pre-orders. By creating pre-orders for their products, they could have kept track of how many were needed and given a specific time frame for delivery.
Offering maximum stock. Limiting the number of sales of each batch could have prevented taking on more than they could handle.
Sending automated responses. Many customers complained that they got radio silence on all channels, and the company didn't even acknowledge them. Creating automated responses can help customers feel heard while giving them information about when they can expect to hear from an actual person solving their issue.
Writing clearer copy. There seems to be a lot of confusion for MedCline customers about some of the company's practices, with doubts regarding return policies, time frames, and perhaps even schedules for picking up phone calls and replying to emails. A business needs to be as transparent as possible with its customers, avoiding misunderstandings that can garner a bad reputation.
Having a trustworthy agency running your website can improve your internal processes, as it can leave you to do what you do best.
In Conclusion
Planning is essential for a business, and that's even truer of an online store. One of the best things you can do for your brand's future is to create an online environment that will help you grow. Build a WordPress website that fits your current needs and can keep expanding along with your brand.
At Bright Plugins, we specialize in providing best-in-class plugins for store owners, agencies, and professionals! Bright Vessel can guide you through the process of building a website that works for you and how you envision your brand growing. Contact them to find out how we can work together!
Pre-Orders

for

Woocommerce
4 Models
Get Presales
in a Comprehensive way
In today's fast-paced digital era, the internet connects people from all corners of the globe. With the world becoming more interconnected, businesses must recognize the importance of catering to diverse…