Like this article? Spread the word
The Top 10 WordPress Plugins 2022
The Top 10 WordPress Plugins 2022. WordPress is an incredible web hosting platform for individuals and businesses to display their blog, portfolio, or sell products on an eCommerce website. With more than 409 million people viewing more than 20 billion pages every month, it's no secret that WordPress dominates the internet.
Millions of people trust and love WordPress more than any other hosting platform due to its customizability. When you create a WordPress website, you have complete control to make the website of your dreams with all of the available themes and templates.
Although arguably, the part of WordPress that takes the cake is the ability to create an even better website using WordPress's extensive list of plugins to add new features to your website easily.
The WordPress plugins take customization to another level, with particular plugins for everything you might need. The only issue is that it can be hard to find the perfect one for your website's needs.
In this article, we'll tell you about the top 10 WordPress plugins that you need for your website in 2022, so you can skip the hours of browsing through the Plugin Directory.
The Top 10 WordPress Plugins You Need in 2022
Gravity Forms is the one-stop-shop WordPress plugin for all contact form needs. Gravity Forms helps you build intricate contact forms efficiently and quickly, with no coding skills required. It's no secret why over a million websites use their plugin.
Gravity Forms helps you to:
Create user-friendly customizable contact forms for your WordPress website.
Option to separate the form into multiple pages and schedule when they appear
Understand your users' journey
Integrate with HubSpot seamlessly
Gravity Forms is $59 for an annual subscription. 
Search WP makes searching for content on WordPress a walk in the park. WordPress's built-in search tool just doesn't cut it most of the time, especially for specific searches. Search WP makes the search process easy and efficient to save you valuable time.
What you can expect from Search WP:
Provide your website viewers with an intricate website search experience
Advanced search options to quickly find keywords, descriptions, and documents.
Customizable search engine options. For example, you could have a specific search engine for blogs or products.
Works with all custom fields in any way you'd prefer.
A Search WP subscription starts at $99 annually. 
Akismet is the quickest and easiest way to manage and eliminate spam comments on your WordPress website. Trusted by millions of websites, Akismet filters hundreds of millions of spam comments from the Web daily. With Akismet, you'll never have to worry about spam again!
Key benefits of Akismet:
Works in the background to automatically scan your website's comments and filter the spam for you.
No settings to configure
Akismet is free to download with an Akismet.com API key.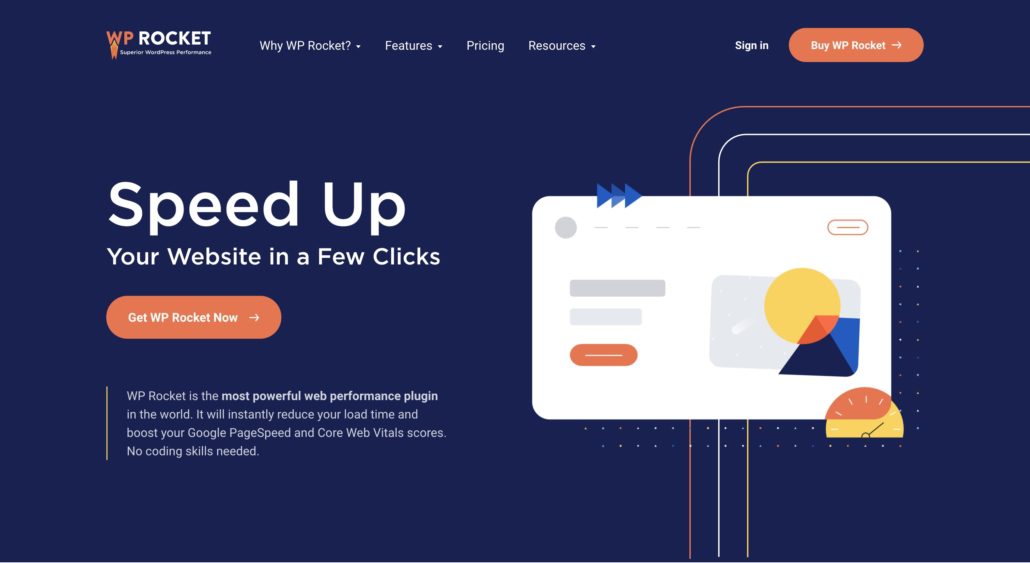 WP Rocket is the most powerful web performance plugin for WordPress that speeds up your website and instantly reduces your pages' load time. Page speed is a crucial element to achieve a high-performing website, and here is how WP-Rocket will help you:
Boost Google PageSpeed and Core Web Vitals scores.
Activation of page caching is immediate, providing an instant speed boost upon download.
Improved website index
Ensures website images load as the reader scrolls down the page, reducing the weight of your HTML, JavaScript, and CSS files through minification.
WP Rocket starts at $49 for an annual subscription. 
WooCommerce is the world's most popular open-source eCommerce solution for websites. Open-source means that you retain full ownership of your store's content and data forever, and with over 5 million installs, it's not difficult to see that it provides a ton of value.
WooCommerce will help your WordPress site by:
Assist in creating beautiful storefronts with themes perfect for your brand and industry
Customize website pages quickly using modular product blocks.
Calculate the cost of shipping and taxes.
Provides stock management tools to keep track of your inventory in real-time.
Bringing your website to the top of search results using WordPress' SEO advantage.
WooCommerce is free, with the option of purchasing a WooCommerce Subscription for $199 annually.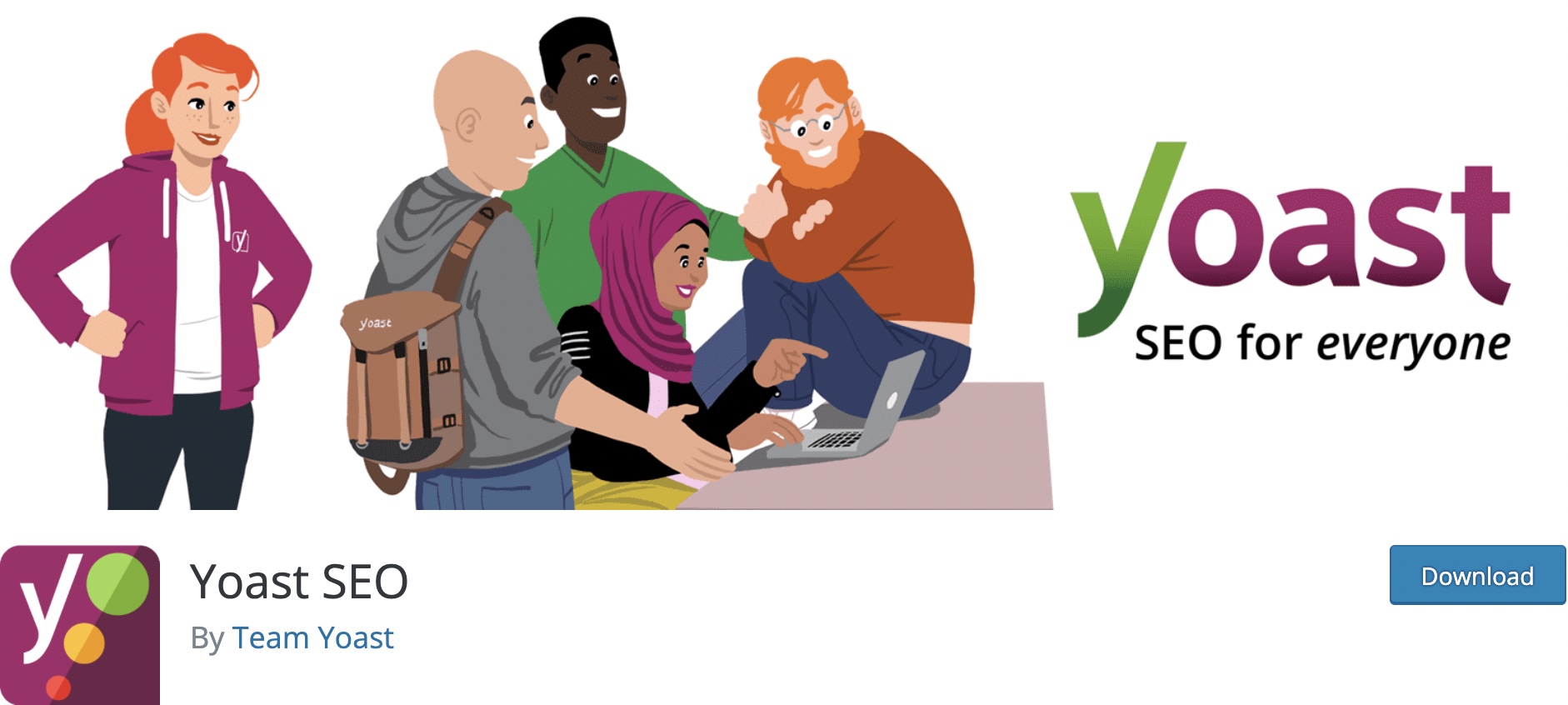 Yoast SEO makes SEO easy, even for those who know nothing about optimizing a website for search engines. Yoast ensures that your website meets the highest technical SEO standards by providing you with the tools necessary to optimize your website content for SEO and overall readability.
Yoast SEO is a free WordPress plugin with the option of upgrading to the Premium version to access more advanced features, including the Yoast SEO academy, which sends educational newsletters to your inbox weekly.
Yoast SEO assists you by:
Optimizing your website page content, including images, titles, meta descriptions, and keywords.
Analyzing the readability of your copy.
Generating URLs automatically.
Yoast SEO Premium starts at $89.00 
UpdraftPlus is a plugin that will backup your entire website, including your database and files, on a schedule that best suits you. You can rest easy with UpdraftPlus knowing that you'll never lose any precious information.
Updraft Plus features:
Restores and Backups
Backs up a variety of cloud options
Option to have every backup file emailed to you for safekeeping.
Excellent support for immediate assistance.
Option to exclude files and folders from your backups.
Updraft Plus is available for free on the WordPress store.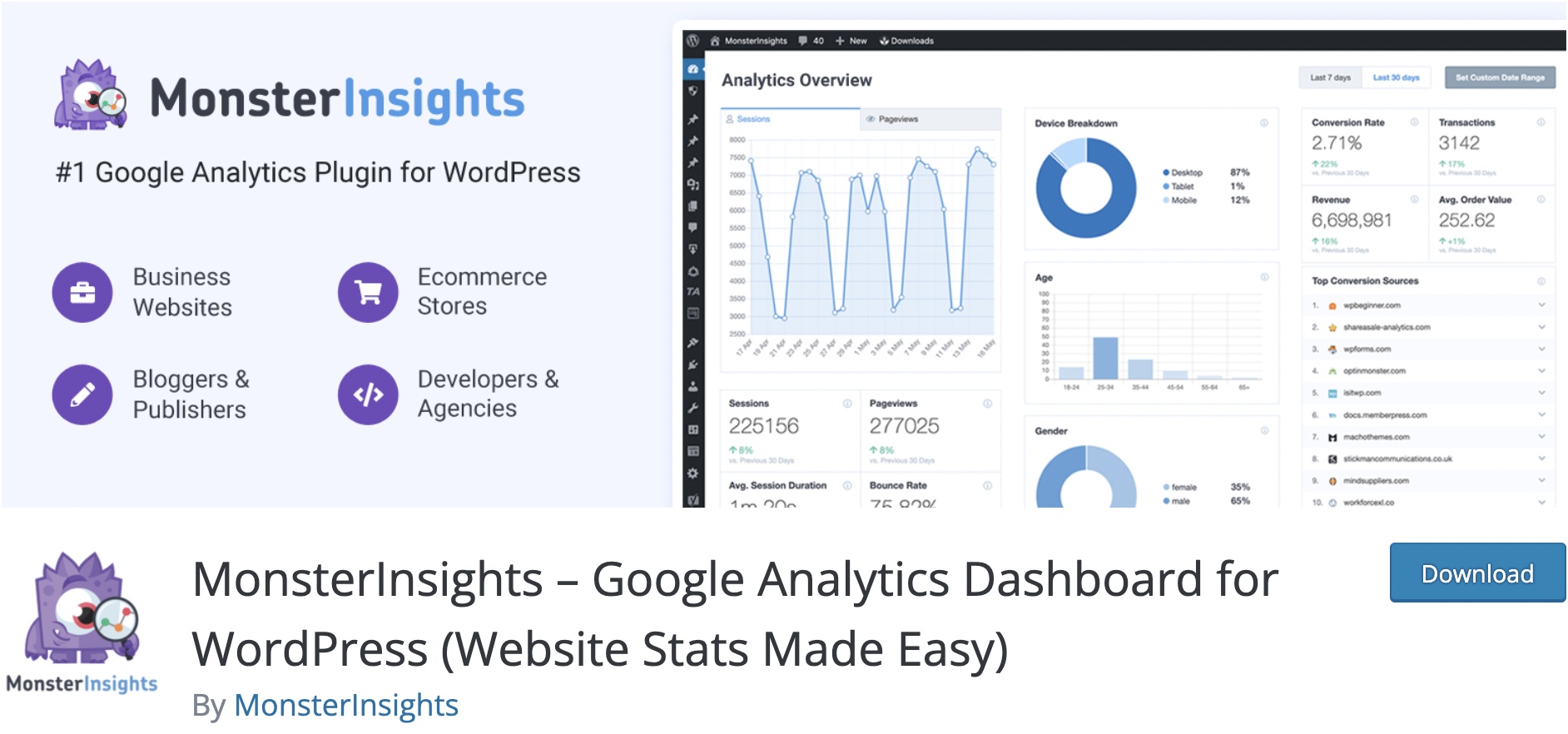 Monster Insights helps you discover information about your website viewers, including how many people visit, where they're from, and exactly how long they're staying on each page of your site. This WordPress plugin is truly unmatched because of its power to understand your readers' journey.
Monster Insights benefits:
It is a free WordPress plugin.
Tracks your website's visitors using Google Analytics tracking code to view crucial metrics.
It generates customizable performance reports about your website's performance, including detail about individual pages and posts.
Compatible with multisite networks
Integrates Google AdWords to track your ad performance
Monster Insights starts at $199.00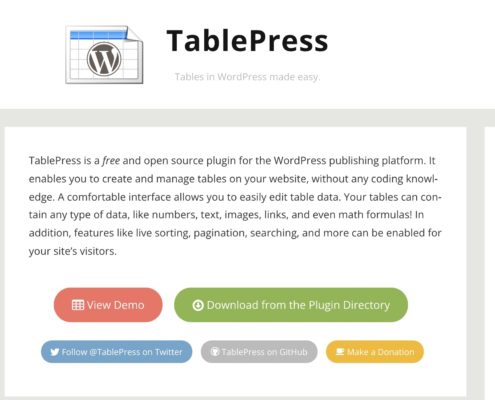 TablePress helps you create and manage beautiful tables for your WordPress website; you even have the option to import tables from Excel for optimum workflow! The best part is that no knowledge of HTML or code is required.
Benefits of TablePress:
Free WordPress plugin.
Option to embed tables into posts, pages, or widgets using WordPress shortcode.
The spreadsheet interface eliminates the need for coding.
The tables can contain any data (even formulas) plus an additional JavaScript library for sorting, filtering, and pagination to help your users better understand the available data.
Option to import and export tables to/from Excel CSV, HTML, and JSON files.
TablePress is entirely free of charge. 
Our team at Bright Plugins works hard to create high-quality, well-developed plugins for not only our customers but for Bright Vessel too. We offer a large range of different plugins that cater to more of your specific needs.
Here is a list of plugins to choose from:
Take Your WordPress Website To The Next Level with Bright Vessel
At Bright Vessel, we specialize in creating beautiful WordPress websites that rank highly on your potential customers' searches. Contact us today to discover how to tailor your website to achieve your goals together! We can advise you on the plugins that will best suit you and your website's needs, and have fun while doing it.
Pre-Orders

for

Woocommerce
4 Models
Get Presales
in a Comprehensive way
In today's fast-paced digital era, the internet connects people from all corners of the globe. With the world becoming more interconnected, businesses must recognize the importance of catering to diverse…