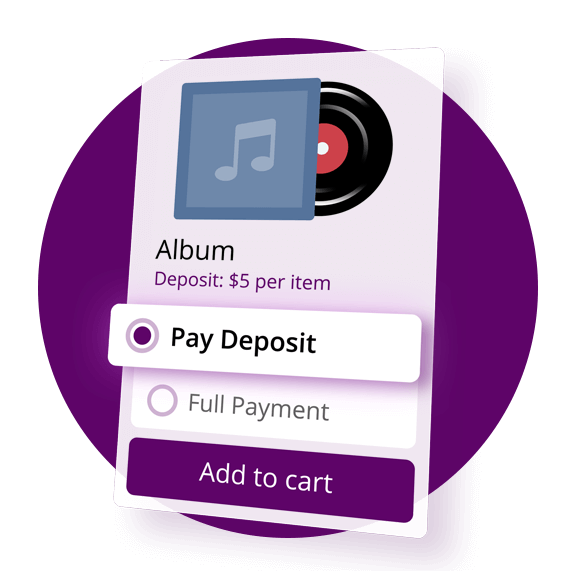 WooCommerce Deposits Plugin
The WooCommerce Deposits and Part Payments Plugin allows you to accept deposits for your products, giving your customers more choice and flexibility over their payments. You can offer them the option to make a deposit in advance or let them make one payment and then another payment later.
As the seller, you can vary the amount the customer needs to pay upfront and alter the interim payments. That means you have complete control and can change the part-payment amounts as and when you choose. It also means you can more easily take advantage of peak sales times like Black Friday!
Our WordPress Deposits Plugin lets you decide which of your store products you would like to offer part payments on. You can choose to set fixed amounts or a percentage of the total price. Then, once the customer is at checkout, they can select whether they would like to use the deposit option.
When the customer decides to use part payment, they will only pay the deposit at that time and the system will calculate and schedule payments for the remaining amount. You can also set email reminders that will be sent to the customer when a payment is due.
At this stage in the process, you might want to consider offering a special discount price to customers who elect to pay in full. Whether a customer chooses to pay in installments or in full at a discounted price, you win both ways by making a sale!
High-Cost Items
Customers spend more time thinking about purchasing high-ticket items before they actually buy them. If the only option is to pay for a product in full, it can limit their ability to make the purchase.
That's where we come in! The Deposits for WooCommerce Plugin has real benefits for stores that sell high-priced items. When making a considered purchase, customers like to have more payment choices available, and many will choose to buy from a retailer that lets them split their purchase into several instalments.
Customer Retention and Loyalty
If customers like the payment options you offer, they are much more likely to return and buy from your store again. They're also more likely to recommend you to their friends and family.
Why Should I Use A WooCommerce Deposits Plugin?
One benefit of this process is allowing for easier sales of your more high-priced items. With less overwhelming upfront prices, customers can feel more comfortable with a starting price rather than an immediate larger one, opening the door for successful deals.
It's a great plugin to own. Everyone on both parties wins because it supplies security for both buyer and seller.
So Why wait?  The time is now for you to allow your customers to divide up their order payments, pay their starting price, and pay the remaining price later.
We are dedicated to providing excellent support and would love to hear from you.