Like this article? Spread the word
The Future of WordPress by 2025
WordPress has come a long way since its launch in 2003 as a simple blogging platform. Today, it powers over 40% of all websites, including some of the world's most popular sites, such as The New York Times, CNN, and Forbes. But what does the future hold for WordPress, and where is the platform headed by 2025?
In this article, we'll explore some of the key trends and developments that are shaping the future of WordPress and what they mean for website owners, developers, and users alike.
Dominance as a CMS Platform
WordPress is one of the most dominant Content Management System (CMS) platforms available today, with a global market share of over 40% of all websites. According to W3Techs, a web technology survey firm, as of April 2023, WordPress powers 42.8% of all websites. This is a staggering number, especially considering that there are over 1.8 billion websites today.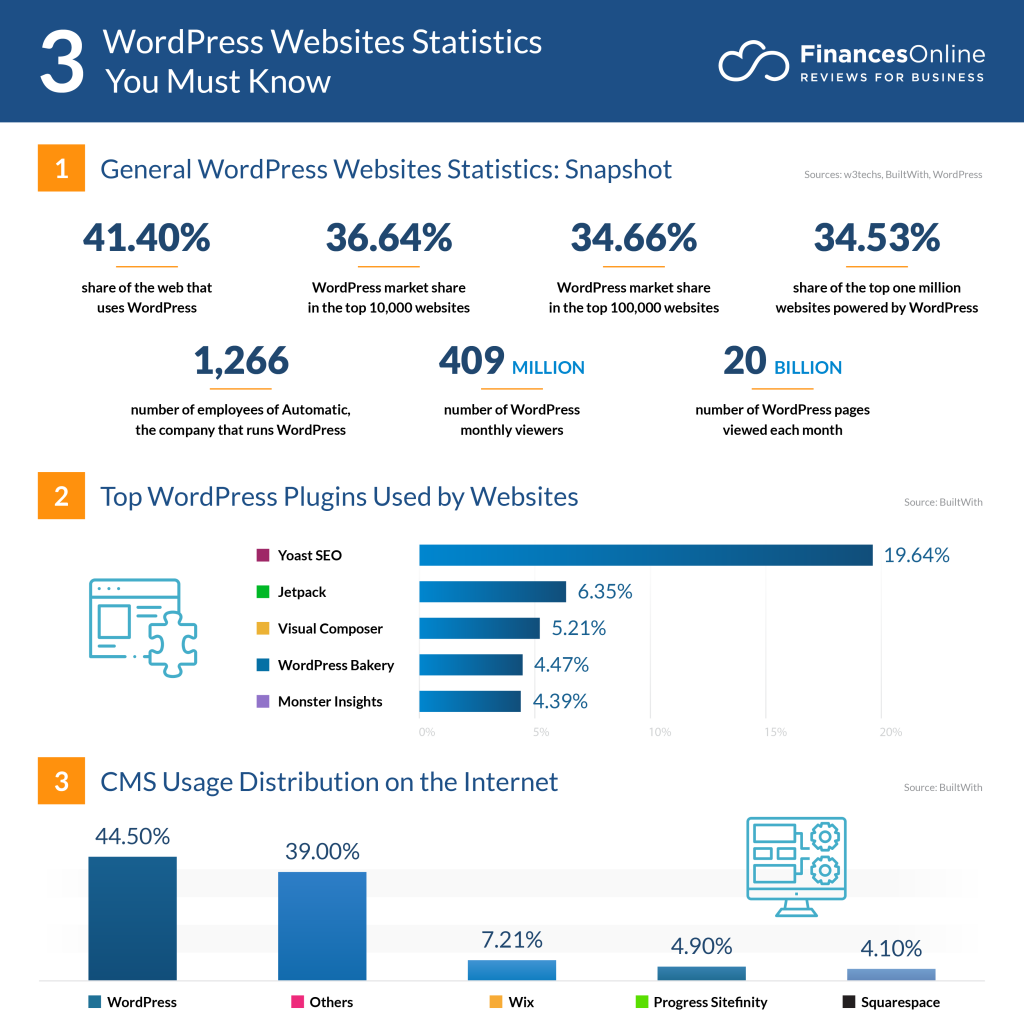 WordPress's dominance as a CMS platform can be attributed to several factors. Firstly, it is a free and open-source platform, meaning anyone can use, modify and distribute it without any cost. This has made it accessible to millions worldwide who can't afford to pay for expensive proprietary software.
WordPress is easy to use and has a low barrier to entry, making it ideal for beginners and non-technical users. It offers a wide range of themes and plugins that can be used to customize the look and functionality of a website without requiring any coding knowledge.
WordPress has a large and active community of developers, designers, and users who contribute to its development and provide support to others. This community-driven approach has helped WordPress evolve and adapt to the changing needs of its users, making it a versatile and adaptable platform.
WordPress is SEO-friendly, which means it is designed to help websites rank higher in search engine results pages (SERPs). This has made it popular for businesses and individuals who want to improve their online visibility and attract more site traffic.
WordPress Moving Forward to 2025
WordPress has come a long way since its inception in 2003, and it is still growing and evolving rapidly. As we move forward to 2025, there are several key areas where we can expect to see WordPress continue to develop and innovate.
Continued growth and dominance:
WordPress's market share has been growing steadily over the years, and there's no reason to believe this trend will slow down anytime soon. With more and more businesses and individuals looking to create an online presence, WordPress is well-positioned to continue dominating the website-building landscape.
Increased focus on accessibility:
As the web becomes more central to our daily lives, accessibility is becoming an increasingly important consideration. WordPress has already made strides in this area, but we can expect to see even more emphasis on making the platform accessible to all users, including those with disabilities.
Emphasis on speed and performance:
With internet users expecting websites to load quickly and smoothly, speed and performance will be a top priority for WordPress in the coming years. We expect to see improvements to core functionality and more plugins and tools designed to help website owners optimize their sites for speed.
Greater use of artificial intelligence and machine learning:
Artificial intelligence and machine learning are becoming increasingly important in many areas of technology, and the same is true for WordPress. We expect to see more plugins and tools that use AI and machine learning to help website owners automate tasks, optimize content, and improve user experience.
The continued evolution of the block editor:
The Gutenberg block editor was a significant change for WordPress when it was introduced in 2018, and it has continued to evolve and improve since then. We expect to see more features and capabilities added to the block editor in the coming years, making it an even more powerful tool for creating rich, engaging content.
Greater emphasis on security:
Security will remain a top priority for WordPress as the internet becomes increasingly dangerous. We expect to see more built-in security features, plugins, and tools to help website owners protect their sites from hackers and other threats.
The growing importance of mobile:
With more and more people accessing the internet on their mobile devices, mobile optimization will become an even more critical consideration for WordPress in the coming years. We can expect more mobile-friendly themes and plugins and a greater emphasis on responsive design and mobile-first development.
WordPress's dominance as a CMS platform results from its accessibility, ease of use, versatility, community support, and SEO-friendliness. These factors have helped it become one of the most popular and widely used website-building platforms in the world today.
The future of WordPress looks bright, with continued growth, increased focus on accessibility, emphasis on speed and performance, greater use of AI and machine learning, the evolution of the block editor, focus on security, and the growing importance of mobile optimization. Whether you're a website owner, developer, or user, these trends will shape the future of WordPress and help it remain a dominant force in the website-building landscape for years to come.
Pre-Orders

for

Woocommerce
4 Models
Get Presales
in a Comprehensive way
In today's fast-paced digital era, the internet connects people from all corners of the globe. With the world becoming more interconnected, businesses must recognize the importance of catering to diverse…