Like this article? Spread the word
8 Best WordPress Testimonial Plugins
Know the 8 Best WordPress Testimonial Plugins! Trust is essential for any business website. Without a high level of trust and authority, customers will not stay on your website for long. Don't forget that more than 80% of customers admit to checking reviews before committing to buying products and services online. So, how can you establish trust in your business? The answer is testimonials.
You can claim your website is the best and offers a great service – it doesn't matter. Customers want proof. They want to hear from people like them who have relied on your services. That's why testimonials are so important. Of course, these need to be integrated into your business site seamlessly while attracting the right level of attention. Testimonial plugins will allow you to add a testimonial section for your WordPress website. No coding is necessary with a plugin, and they are designed to be user-friendly. Below you'll find details on the best WordPress Testimonial Plugins to revamp your website this year.
Does Your WordPress Site Need A Testimonial?
You could be offering the best service or product to customers and clients. The problem is that unless you can provide proof, customers won't believe that. That's why if you're selling a product or service through your WordPress site, you need a testimonial section.
It doesn't matter what the product is – you might just be offering an ebook – testimonials are still going to help boost those sale numbers. Key WordPress sites that will require this section include:
Online learning websites
App landing sites
Product marketplaces
Agency web pages
Now, let's look at the easiest way to add testimonials with the top WordPress plugins.
Thrive Ovation
https://thrivethemes.com/ovation/
If you're looking for an all-in-one testimonial plugin, Thrive Ovation could be the ideal option. The standout feature here is that you will be able to convert typical comments into testimonials. All it takes is a quick click. The plugin then grabs the name, image, and comment.
You can use the plugin to import testimonials from other places, too, like Twitter and Facebook. As with most testimonial plugins, this uses a form to collect them. However, you can also use it to send an automated message to users asking for their feedback.
Another key feature is that there's a central dash where you will manage all your testimonials. You can scroll through those that are rejected, approved, or need a photo.
Do you want to make your testimonials look fantastic? Thrive offers a few different templates and slides included in the package. You can customize these using the Thrive Content Builder to ensure they look unique to your site.
Once you're happy with the design, you can then add it to your site. If you're looking for a free plugin, this won't be for you. The starting price is $39 for one WordPress site.
Key Points
Converts comments into testimonials
Fully customize your testimonials to match your site
Import them from social media
Embed the testimonials anywhere on your site
Testimonials Showcase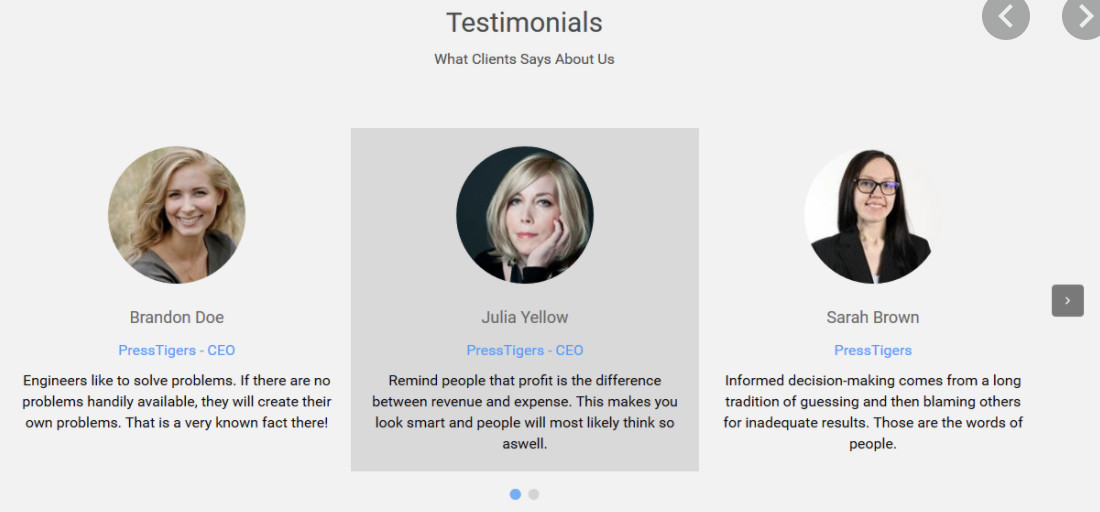 https://cmoreira.net/testimonials-showcase/
For another premium plugin, like Thrive Ovation, your testimonials are going to look fantastic with this option. You can choose to display them as either a grid or slide.
With five built-in theme options to choose from, you should be able to find the perfect possibility for your site. The plugin also provides a submission that can be fully customized to include any text or fields you want.
A unique feature of this plugin is that you will display star ratings in Google SERPs. That's possible because it's compatible with Gravatar as well as rich snippets.
Through this plugin, testimonials can be inserted with a shortcode or a widget. That's great because you can see how your testimonials are going to look and quickly change them. At $16, this is significantly cheaper than Thrive Ovation, although it lacks a few features.
Key Points
Can include star ratings
15 different customization options to explore
Customizable front-end submission forms
Testimonials Slider – 8 Best WordPress Testimonial Plugins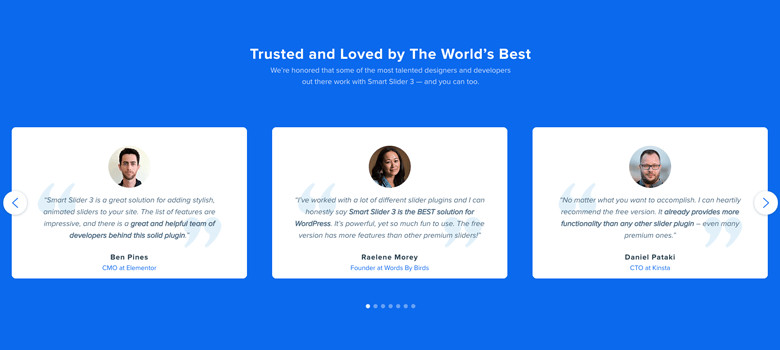 If you're just getting started with your WordPress plugin, consider this option. Unlike other plugins, this only provides a slider layout. A big benefit of this is that it takes less space on your site. Customers will also find it easier to search through your testimonials.
If you're adding a testimonial section to your site, you'll have multiple choices, including slider, cards, carousel, and countless others.
As with other options, this plugin does use shortcodes. This means that you can embed the testimonials anywhere on your site.
In terms of pricing, Testimonials Slider is incredibly affordable. For just one payment, you can gain access to all the updates and the various features that it provides. It's also compatible with a wide range of different software, including WPBakery Page Builder.
Key Features
The low price of $22 provides high value
6 different layouts to choose from
Add testimonials anywhere on the site with shortcodes
Easy Testimonials
With a free and pro version available, this plugin will suit your needs regardless of your budget. Using a shortcode, you can use this plug-in to embed testimonials into either page or post using a shortcode. You can also add a sidebar with a widget.
With this plugin, you can include both photos and a rating. This means that they'll appear the right way in the SERPs. That's important as research suggests ratings play a massive part in whether customers visit your site.
As well as giving you access to four themes, you can also use this plugin to create your own. If you opt for the pro version, then you'll be able to access 75 designs that are professionally designed. You'll gain access to other benefits, too, including advanced transitions like tiling or flipping.
Key Features
Pro and free versions are available
Advanced options with a pro package including email notifications
Adding photos and ratings that appear in SERPs
Use widgets or shortcodes to add testimonials however you want
Strong Testimonials – One of the 8 Best WordPress Testimonial Plugins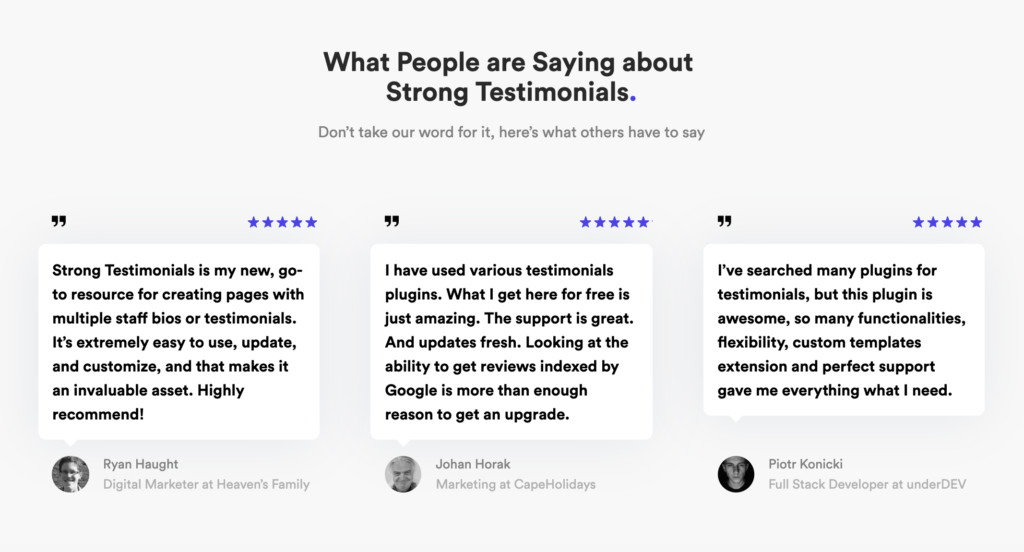 This is by far one of the most popular WordPress plugins for testimonials. It has more than 80,000 active installations, and part of the reason might be it's completely free.
Despite having no high price tag, you will gain a lot of premium features with this option. That includes a form for collecting feedback and two separate layouts. While significantly less than some other choices on the market, it gives you everything you need for a great page.
You get a few different style options, and you can even add gravatar. As well as this, you will even be able to add translations using a variety of different compatible software. This makes it perfect if you are hoping to reach an international audience.
Key Features
Translation Options
Free to use
Premium options included different style choices
Instagram Testimonials
https://elfsight.com/instagram-testimonials-widget/
Instagram will be a key social media network for many businesses. It's absolutely vital if your service or product has a visual element. You can also use Instagram to partner up with different influencers who will promote your business to the masses. That's why it makes sense to use a plugin that works well with this network.
You can use Instagram testimonials to import any posts that are created by influencers. These posts will appear as official testimonials on your website. At just $24, this should easily fit into your marketing budget.
You have a few different designs to choose from with this option, including slider, poster, and horizontal layouts. As well as this, you can add custom star ratings and emoji stickers to your testimonials. This is going to ensure that they stand out and catch the attention of your customers. It's easy to use too.
Key Features
Ideal for importing from Instagram
Easily add star ratings and emoji stickers.
Choose from several different designs.
Testimonial Builder
This is another free plugin and will be perfect if you are new to WordPress. Despite being suitable for any budget, it offers some incredibly advanced customization options, particularly compared to other free options available on the market.
With this plugin, you will be able to customize every part of your testimonials, including the fonts, colors, and sizes. As such, you'll be able to ensure that they fit into your site perfectly and don't look out of place.
2 design themes have already been made if you don't have time to custom-build your own. The layouts are also completely responsive, so your testimonials will look great on any device.
Key Features
Complete responsive design
Choose from 2 themes or create your own
Full customization options to make your testimonials unique
Super Testimonials
Finally, you can use Super Testimonials to create an awesome new section on your website despite being free. The testimonials will look professional, and with a widget or embed, you'll be able to add them anywhere to your site.
A standard feature here is that you get more options than with most of the other free plugins. You can also create as many testimonials as you like, so it's perfect if your website is still growing.
Key Features
4 different layout designs
Easily design your own testimonials
Add them to your site anywhere
Create as many as you want for free
As you can see, there are countless plugins to choose from when you are adding testimonials to your WordPress site. At Bright Vessel, we know how important testimonials are for the success of your business website. Get in touch today, and we'll help ensure that these are incorporated seamlessly into your site design.
We are Bright Plugins
At Bright Plugins, we stand out thanks to the unmatched expertise and knowledge of our team of WordPress  & WooCommerce developers, who are passionate about plugins and know them like the back of their hands.
Bright Plugins is continually adding more plugins as well as free stuff for website and store owners, so be sure to keep your eyes peeled whenever you visit our website.
Our team offers outstanding customer support and lets you choose which type of support you need. Bright Plugins' priority support, for example, means that you will receive a response to your query within 24 hours. Our free support, on the other hand, will require two days. What will never change is the quality of support we provide.
Pre-Orders

for

Woocommerce
4 Models
Get Presales
in a Comprehensive way
In today's fast-paced digital era, the internet connects people from all corners of the globe. With the world becoming more interconnected, businesses must recognize the importance of catering to diverse…