Like this article? Spread the word
5 Best PDF Plugins for WordPress (Viewer, Embed, & Downloads)
While it can seem a little frustrating that the PDF is still around, there are plenty of good reasons why it's the case. It's an excellent format that's highly customizable, easy to download and share, and more secure than other documents since they can be password-protected.
Alas, while you might have plenty of PDFs you want to host on your website, if it's a WordPress site, you won't have automatic success.
That's because WordPress does not automatically display these types of files. If a user clicks on a PDF file, a download page will open, and while that'll get the job done, it's not the best experience for the customer.
Think about a restaurant menu as a PDF file on your site; it would be a much smoother experience for the user if they could stay within the website and see the file. The file must be embedded into the site, which isn't a WordPress feature.
There are other advantages to having a PDF plugin, too. It'll allow visitors to download additional content on your website (such as blog posts) as a PDF, a helpful feature that many website visitors enjoy.
Thankfully, there are other ways. Plenty of third-party WordPress PDF plugins will do the job for you. This blog will run through five of the best on the market.
PDF plugins can incorporate PDFs into your site
Provides a better customer experience
5 Best PDF Plugins for WordPress (Viewer, Embed, & Downloads)
One of the best PDF Plugins for WordPress: EmbedPres
EmbedPress is one of the more popular PDF plugins on the market, in large part because of the sheer scope of the tool. It won't just allow you to embed PDF files on your WordPress site; it'll also allow you to embed things like Facebook posts and videos, Google Map pages, Instagram images, Google Doc files, and more.
But let's stay focused on the PDF aspect for now. You'll find it's straightforward to use, among many other advantages of this plugin. It's a simple process of uploading the files into the media library and placing them wherever you want on the website.
A complete embedding plugin
Embeds PDFs along with Facebook posts, Google map pages, and more.
One of the best PDF Plugins for WordPress: WPFORMS
If you're a relative newcomer to PDFs and even WordPress in general, then the WPForms plugin might be the one that's right for you. It's one of the simpler plugins out there, though the simplicity does mean that it doesn't come with some of the features you'd find on more advanced plugins. The popularity of WPForms is evidenced by the sheer number of people that use it: more than 3 million websites use it.
It's a simple process of adding your PDF files to a file upload form, which feeds directly to your website. This plugin is so popular because it doesn't require you to allow access to your website's backend.
Simple to use
Used by more than 3 million websites
Not as advanced as other plugins
One of the best PDF Plugins for WordPress: PDF Poster
PDF Poster isn't one of the most extensive plugins on the market, but it has won rave reviews from users for its simplicity and ease of use. One of the key advantages of this plugin is that it's beneficial for both users and website owners; many plugins seem to take the side of one over the other, but not PDF posters.
So what are the virtues of this plugin? The one that'll stand out is the ability to host a PDF file on your website without the black viewer frame, which helps to create a cleaner look for your site. If you so wish, you can protect your PDFs' content by making them impossible to be downloaded or copy. So
So how does it work? You upload your PDF, at which point you'll be given a shortcode, which you can then paste into the WordPress post page. Simple!
Uses shortcode
Provides a clean PDF presentation
One of the best PDF Plugins for WordPress: PDF.js Viewer
PDF.js Viewer is quite similar to PDF Poster in that you can add the PDF to a new page or post using the shortcode that the plugin has generated. Once that has been done, visitors to the site will get the whole PDF experience, which means they can scroll through the PDF, search the file, download it, or print it. Many other features go above and beyond the basics, too. For example, you'll be able to protect your PDF documents, incorporate zoom settings, or display just part of a loaded PDF file.
Uses shortcode
Provides a whole PDF experience
One of the best PDF Plugins for WordPress: WooCommerce PDF Invoices & Packing Slips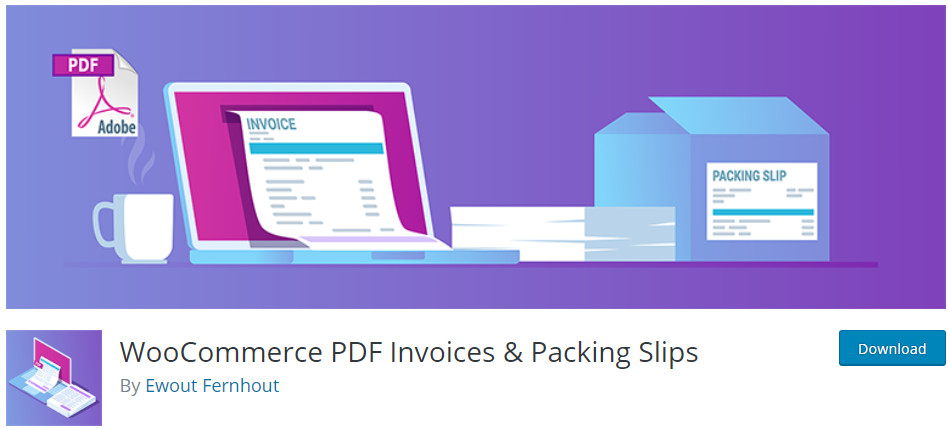 If you're selling goods through your site, then the WooCommerce PDF Invoices & Packing Slips plugin might be the one that's right for you. Once you get an order, you can send PDF invoices that can be downloaded with the order confirmation. One of the best features of this plugin is that while the templates can be considered quite essential, they're fully customizable, so you'll be able to create a PDF invoice that is in line with your branding.
Designed for eCommerce websites
Sends a PDF order summary to customers
Conclusion of 5 Best PDF Plugins for WordPress
All of the plugins outlined above have their advantages. It's all about going through the options available and finding the one that's right for you. Ultimately, you'll find that your bottom line is given a boost.
Giving your company a nudge in the right direction is what we aim to provide here at Bright Vessel. If you're looking to increase your bottom line further, then be sure to get in touch with us today. We'll help you develop a content marketing strategy that'll drive more business your way.
We are Bright Plugins
Bright Plugins team is made up of full-stack developers which have been certified in WordPress and WooCommerce. We provide best-in-class plugins for store owners, agencies, and professionals.
Pre-Orders

for

Woocommerce
4 Models
Get Presales
in a Comprehensive way
In today's fast-paced digital era, the internet connects people from all corners of the globe. With the world becoming more interconnected, businesses must recognize the importance of catering to diverse…