Popular Search
email
variable
variation
mail
meta
Preorders for WooCommerce – Free Version

If you need support please use our support form.
Video Overview
Install
1. Login to your WordPress backend and go to your dashboard.
2. On the lefthand column, go to the "Plugin" tab, then click "Add New."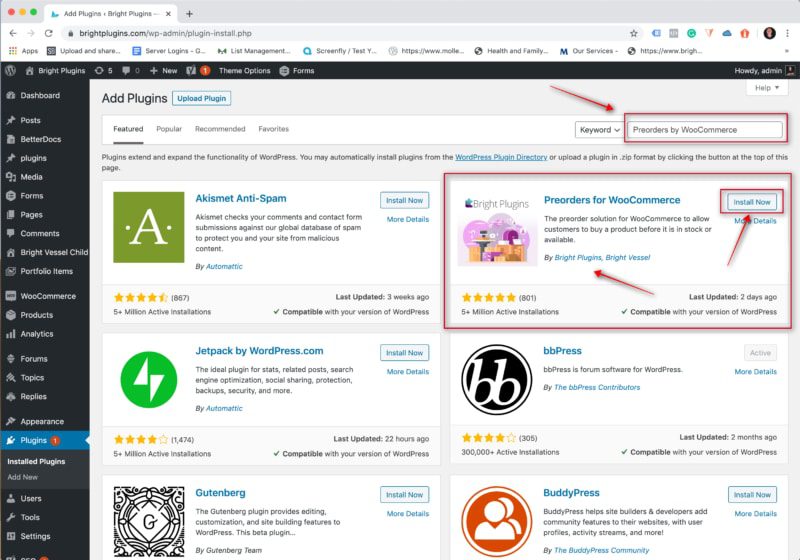 3. To install the version you will need to use the search bar and type in "Preorders for WooCommerce." Below you should then see the plugin which you can verify by looking at "By Team Bright Plugins." After locating the correct plugin. Click the "Install Button." To install Premium Version go to the next slide.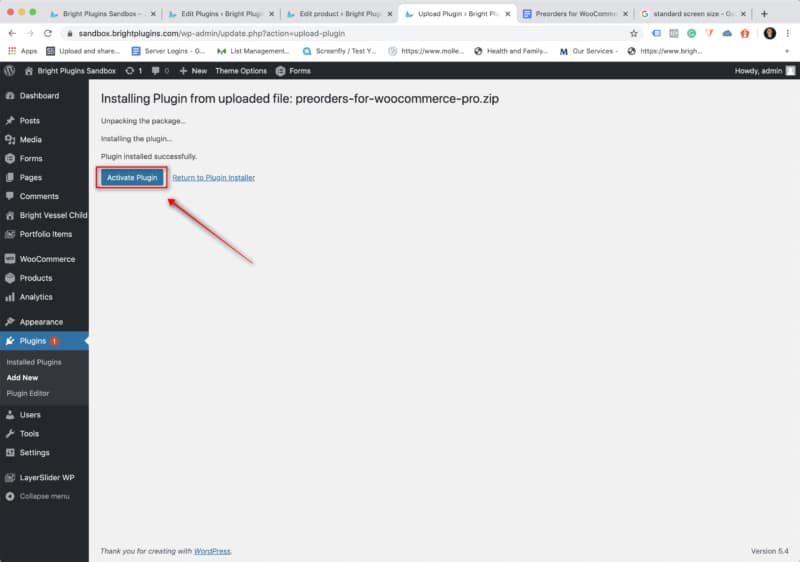 1. After you either installed, you will come to the window states, "Plugin installed successfully," click the "Activate Plugin."
Add Preorder Product
1. Go to your "Products" tab on the left navigation panel and click "Add New"
3. Set the date on when your Preorder Product will be available.
4. Your product is now ready for preorders. Hit publish and then view the product page.
5. Go to the new "Product Page." You will now see the product button states, "Preorder Now!" Go ahead and click the button to add to cart and then view cart.
When viewing cart, you will notice there is a "Note" in red stating when the product will be available based on the date selected on the product page.
Preorder Settings
1. Go to the "WooCommerce" on the lefthand side tab, then click on "Settings."
Treat the whole order as a preorder
If you choose this mode, the customer will be able to select a shipping date, and all products will be shipped together on that specific day. That day will be limited to the latest preorder date available, for instance, if the order has 3 different products marked as preorder ones:
Product A will be available on the 1st of September
Product B will be available on the 3rd of September
Product C will be available on the 1st of October
Then, the minimum shipping date will be the 1st of October (i.e: the minimum date when all products will be available).
Change the title of the Preorder button.
In this option, you can change the title of the button by checking the checkbox for the 'Change button title for preorder products" and then add the name in the "Add Button Title."